Shredding Services are easy to obtain on Shreddee. We verify all shredding companies before they can list their shredding services for sale. You can have complete confidence your document destruction will be handled according to NAID compliance and other data security regulations.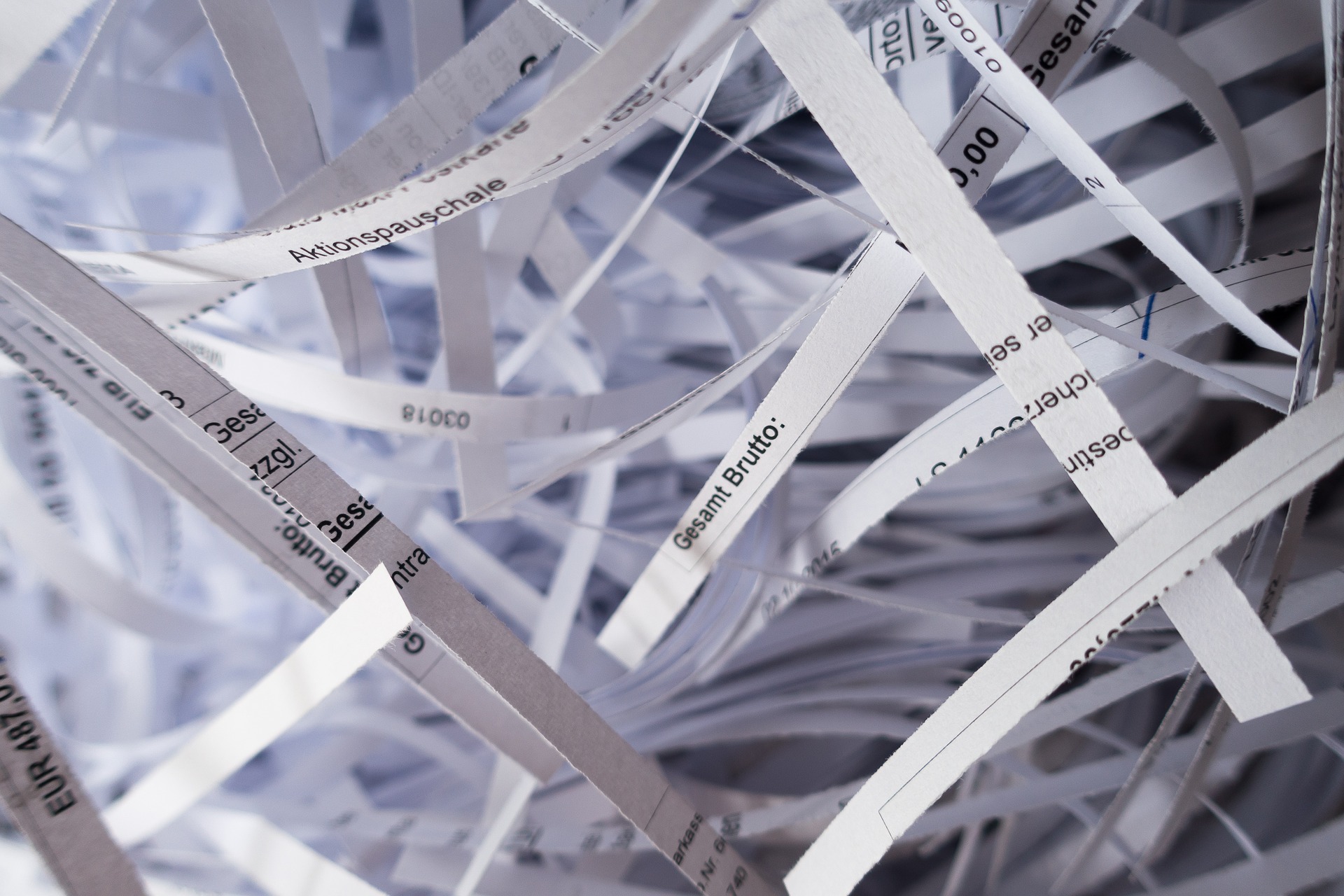 Shredding Services
Shredding is the act of putting a piece of a document through a machine that will cut it into little pieces such that the information on the paper cannot be made sense of.
Shredding is an essential service for anyone wishing to destroy important documents in a manner that they cannot be retrieved by anyone else. In addition to destroying documents, it has to be in a manner that is friendly to the environment. As such, document destruction should be in line with various environmental regulations in the region. Most regulations require that some part of the material being shredded should be recycled rather than left to take a longer time to biodegrade in the environment.
Shredding can be required in different locations such as offices, at home or even at the hospital. Definitely, one could do the shredding on their own but is it effective and secure enough? This is because, even after shredding and discarding it to the dumpster, someone can still access it and try to piece the document together. Your information would still be at risk. So, the best solution is secure shredding.
Shredding not only happens with paper but can also be applied to other materials like plastics of identity cards, data storages like flash disks and other hard drives storing important data.
Secure Shredding
Secure shredding is the reason why own shredding is not an effective way of destroying information. Well, if the information being destroyed is not sensitive, then you can get your own shredder and destroy the information.
Secure shredding is advantageous and effective because of the security factor. The right question is why use a secure shredding service rather than a normal shredding machine in the office or at home? Relying on your own shredding machine is better than tossing documents into the trash. But, it also takes time to feed paper into the machine. As such, transferring that task to a secure shredding company introduces more productivity time for your organization. It is important to note that shredding does not add any value to the organization and having staff painstaking involved in it is a waste to productive time.
Maintaining a shredding machine especially for large corporations is costly. Buying the machines, trash bags, maintenance costs, replacing broke down machines as well as utility expenses involved takes away from company resources but adds no value to the company. Outsourcing the services to a secure shredding company helps save on cost.
Most secure shredding companies help other organizations reduce legal liability in part of privacy standards for the organizations. The shredding companies issue organizations with certification to show that their documents were destroyed and in the right manner.
When shredding a businesses' information, it should be completely destroyed so that the same information cannot get to the wrong hands and tarnish the businesses' reputation, especially to their clients. Having a secure shredding service handle the destruction assures the business that its reputation is protected.
Shredding services also ensure that the waste material is recycled thus not harming the environment. They are also obligated to issue a certification to show that the shredded waste material was recycled.
Shredding Services Near Me
In as far as shredding services are concerned, you want to get to consider a shredding service near you and one that is of top quality in terms of effectiveness and efficiency. Cost of service should also be another factor to consider when looking for shredding services.
An easy step is to go through search engines and look for "shredding services near me." You're likely to get a list of shredding service companies near your locality. Using the list, you can then counter check with the list of best shredding companies.
Once you identify a few bests, it is wise to consider the cost involved against what your organization is getting. Compare the prices with others and come up with a personal best to contact. Another great way of validating great service is through other customer testimonials on the kind of services they got from a particular shredding service.
Some of the best paper shredding services organizations include Iron Mountain, ProShred and Shred-It among others. Most good shredding companies offer on-site and off-site shredding services. On-site shredding services involve having the shredding company come to the client's site and shred information from there. Off-site shredding involves shredding outside the client's location. It may be on a mobile site pre-determined by the shredding company.
A good shredding company should also offer drop off at store services where the client can just drop off their documents and be sure that they will be destroyed without them being there. Good shredding companies also have different services from paper shredding services. Some would provide media destruction services which involve destroying hard drives and computers. They would also have secure document storage services as well as record management services.
Therefore, the best shredding company should be one that offers multiple services.
Paper Shredding Services
Out of all shredding services, paper shredding is the most common. This is because paper is the most used media for recording and storing data physically. With time, the records become obsolete and may need to be destroyed in order to create space for more paper.
Paper shredding is equally essential because the waste product after destruction is still paper. Paper can easily be recycled into reusable products like toilet paper. It is, therefore, a waste that is not harmful to the environment.