Paper shredding services are easy to obtain on Shreddee. Find the nearest paper shredder and select the service you need and purchase. No middle men, no brokers, and no SPAM! Buy direct from local paper shredders. All paper shredding services follow data security regulations like NAID and HIPPA compliance.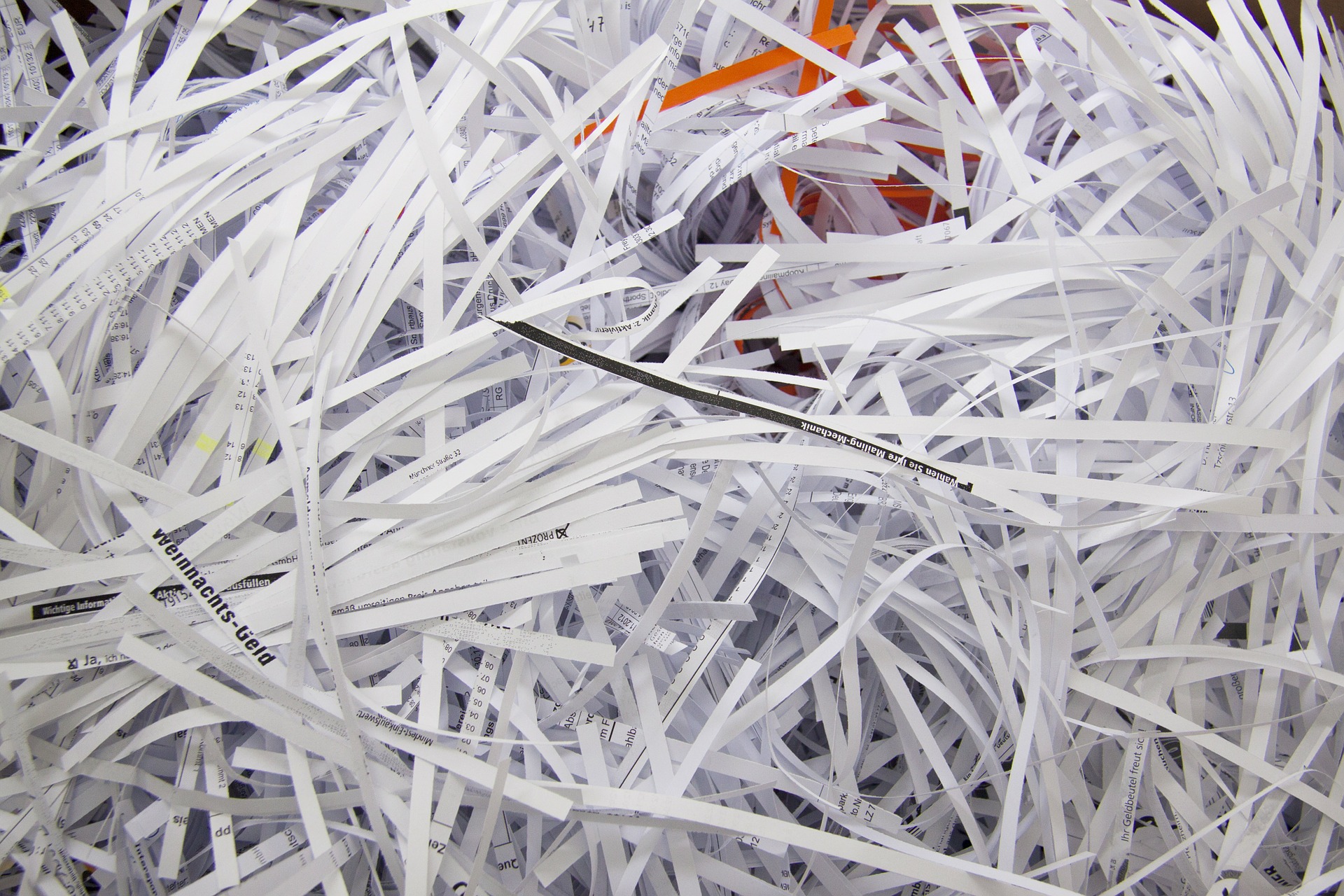 Paper Shredding Services
Paper shredding services is a common service offered in the shredding industry. It is a safe and secure solution for disposing of unwanted and old confidential information belonging to an individual or an organization.
It should be noted that you could shred as little information on an own purchased paper shredder but what about large volumes of documentation. It would take a commercial paper shredding machine to shred large volumes. The only disadvantage will be that the machine is expensive to purchase and maintain thus the need to outsource to a proper shredding service.
Outsourcing paper shredding services help companies save on costs, therefore, revenue can be channelled to better productive departments like manufacturing and sales.
The Gravity of Company and Individual Documents
Documents contain a lot of sensitive information. To the point that a document was printed and stored means that it is important in itself. The information that is printed is kept in files and is accessible by only those cleared to access it. Such information can range from employee information, tax returns, medical reports, manufacturing company trade secrets, processing formulas, problem-solving algorithms, and security information among other sensitive information.
Paper Shredding Companies
The sensitivity of the documents is why organizations should consider using secure paper shredding companies for their services. The security risk is transferred to the shredding company as they are required to produce certification that shredding happened securely and not vital data was lost. In case of any breach of privacy, the blame can be placed on the shredding company and not the client's organization. Therefore, paper shredding services should be NAID AAA accredited which certifies that the shredding company follows stringent security process to destroy your document. Once destroyed, the information obtained.
In case such sensitive information falls into the wrong hands, it is detrimental to the organization in two ways. If the organization is responsible for their client information by keeping it private. A stint like that of identity theft falls under breach of contract between the organization and the client. The client can be obligated to sue the company which tarnishes its reputation and may lead to the downfall of a reputable company.
The organization can also suffer individually if the information recovered meant company secrets are bought to light. In the hands of the competitors, such information can be used to conquer markets. Using paper shredding services that are secure in their processes limits the security risks involved. In fact, for an organization outsourcing shredding to a secure shredding company, they would be transferring the same risk to the shredding company.
Types of Paper Shredding Services
Just like other shredding services, there exist different forms of paper shredding services. They include:
On-site shredding services
Off-site shredding services
One-time shredding
Regularly shredding
Drop-off shredding
Shredding events
Locked containers
On-site Shredding Services
It involves the paper shredding company makings its way to the client's location most likely with a mobile shredding unit. The main purpose of conducting the shredding operation at the client's premises is for them to be able to watch the entire process. Watching the process gives them the satisfaction that the process was carried out appropriately.
Off-site Shredding Services
This is the opposite of on-site shredding services. The shredding company securely collects the paper to be shredded either as a one-time thing or on a regular basis. Depending on the demand, the company collects the documents for shredding from different clients and carries them on a secure truck to the point where the paper will be destroyed. Having different clients in one area to pick shredding papers makes it affordable for the shredding company.
One-time vs Regular Shredding
When paper shredding companies pick documents from the client when they have been requested for their services, it is called a one-time shredding service. But when the client requests for a continuous periodic service over a span of time like a year, the paper shredding companies can provide the services on a monthly basis.
Drop-off Shredding Services
The client picks their documents and delivers them to the paper shredding companies for destruction. The shredding does not need to be done when the client is around. It is a cheaper option for the organization as they cover the cost of taking the documents to the shredding company. Advanced shredding organizations provide their clients with safety boxes that enhance security when transporting documents.
Shredding Events
These are shredding activities organized in public spaces by the shredding companies or by business sponsors like banks and credit unions. Often, the goal of a shredding event is to run an agenda like businesses showcasing their products and services. Non-profit organizations use the events for fundraising purposes. Therefore, shredding events mostly offer free paper shredding services to attract an audience.
Locked Containers
Shredding companies may also issue their clients with locked containers to securely store their documents before they are shredded. The mechanism limits unauthorized personnel from accessing the sensitive documents. Once full, the containers can be picked for shredding.
Paper Shredding Services Near Me
A new organization or business may find it difficult to get shredding services because of not knowing the best paper shredding companies. A simple way to go about it is to search "paper shredding services near me" online.
Using the generated list, they can go through shredding company websites and also read client reviews on different platforms to come up with the right choice. Another way to go about it is to ask other companies what shredding services they use.